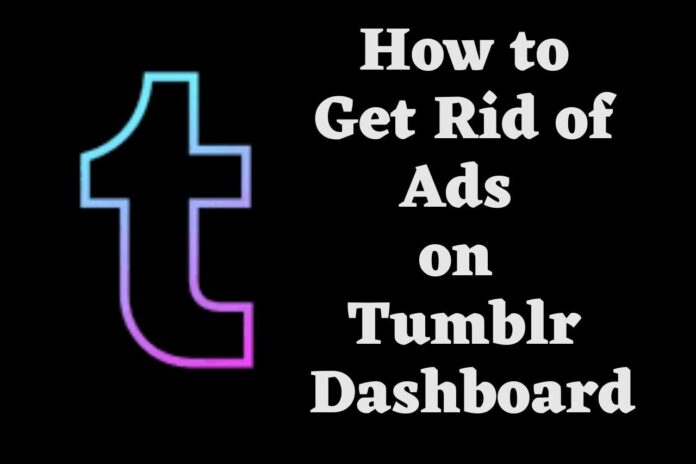 Tumblr is a website that will allow you to share posts like text, photos, videos, songs, quotes, and many more from any device. Tumblr plays the role of a social networking website, and also you can use it for microblogging. In this article, you will learn how to get rid of ads on Tumblr dashboard.
There are two main types of views that you will often use on Tumblr; one is the dashboard. You cannot customize the dashboard; therefore, for all the Tumblr users, the dashboard will look the same.
Once you log into Tumblr, you will see the dashboard where you can post blogs. In the dashboard, you will see all the blogs you are following and the suggestions according to your preference.
The other type of view on Tumblr is your blog, where the post and blog you already shared will be there. When someone visits your blog, they will see your blog interface. By entering username.Tumblr.com, you can quickly call your blog.
Make sure you type the relevant username. For example, if the username is "perfectebizsolutions", you must type perfectebizsolutions.Tumblr.com.
History Of Tumblr
David Karp is the founder of Tumblr; in 2007, he found a platform that could allow sharing posts similar to a social network and provide the microblogging option; this platform is called Tumblr.
Same as other social media networks on Tumblr, you can follow other users, and if you want to maintain a private account, that is also possible. Currently, the automatic owns the Tumblr website, and anyone above the age of thirteen can have their own Tumblr account.
Although Tumblr was once famous and used by many people now the website is almost dead. Here you will learn how to get rid of ads on Tumblr dashboard and other exciting facts about Tumblr.
What Is Tumblr Dashboard?
The central part of the Tumblr website is its dashboard. You will find the options to like, comment, and repost the content that another blogger has already posted in the dashboard. A button on top of the dashboard; will allow you to share any post or blog.
Other is an option to connect your blog to your Facebook or Twitter account will make the blogs reach a higher level. The recent dashboard on the Tumblr website also allows you to restrict reposting your blogs.
Sometimes when ads run on your dashboard, it will be annoying; are you wondering how to get rid of ads on your Tumblr dashboard? This article will coach you to remove the ads. 
Wanna Know Who Liked Your YouTube Video? Read Here.
What Can You Do on Tumblr?
let's take a brief look at what you can do using Tumblr,
Like other social media accounts, you can view the blogs posted from other accounts by following them and placing a like, commenting, or sharing them with others.

Suppose you found exciting content in someone's blog and want to share that with your followers; in this case, you can reblog.

If a Tumblr user reblogs your content, then a backlink in that user's account will increase the followers who visit your account.

Tumblr platform is an excellent chance to connect with people virtually and to get to know exciting things through their blogs and other posts.

You can own different blogs to post various types of content, which is similar to owning to more than one account on Instagram. Also, you can have a private account identical to that of Instagram.
How to Get Rid of Ads on Tumblr Dashboard?
The websites run ads to provide free services and information; these ads also help the website grow. Tumblr uses the yahoo search engine, yahoo collects all the big data (the data that you feed, your age, gender, interests, and many more), and according to that, you will find ads on your Tumblr dashboard.
Most of the time, these ads will be disturbing, and you might often want to get rid of them. Let's look at the way how you can stop these ads.
You can download and install AdLock. After installing, open the app, and now this will help you get rid of ads on all browsers and apps. AdLock is safe; it is also free and open-source software that you can easily download.
If you install AdLock on your android Tumblr app, you must follow some extra steps. After installing AdLock, open an app, and you will find three-dot in the corner click on it and then click on check updates and press on update all.
Enable HTTPS filtering by going to the AdLock tab, and a pop-up message will display; click on OK. Lastly, to verify, you will have to draw a pattern; in this case, draw a design that you can easily remember.
After the step, you will not see any ads; now you know how to get rid of ads on your Tumblr dashboard!
Advantages of Tumblr
Tumblr is a free website with no premium version, and you don't have to pay to use it.

You can host a website available on the internet, and everyone can access it. Hosting sites is accessible on Tumblr.

You can quickly post or share blogs on Tumblr, which is not time-consuming.

Tumblr has a user-friendly interface for the user, making it easy to handle and manage things on this website.

Tumblr is not only a website for blog writing; you can also use it as a social networking site similar to Facebook and Twitter.

In the blogs section, there will not be any ads getting displayed.
Disadvantages of Tumblr
The Tumblr dashboard allows ads which makes the users annoying.

Although your post and share a blog, Tumblr does not allow you to own a blog.

You cannot install any ad-on or extensions on Tumblr.

Tumblr is not a hundred percent safe app, and there are security and user experience (UX) issues in this app.

Although Tumblr allows social networking, the performance is not good enough.

Writing a blog is a plus point, but Tumblr allows you to write only short content; hence you will not be able to share any long content blogs.
This article on how to get rid of ads on Tumblr dashboard might have provided some knowledge!