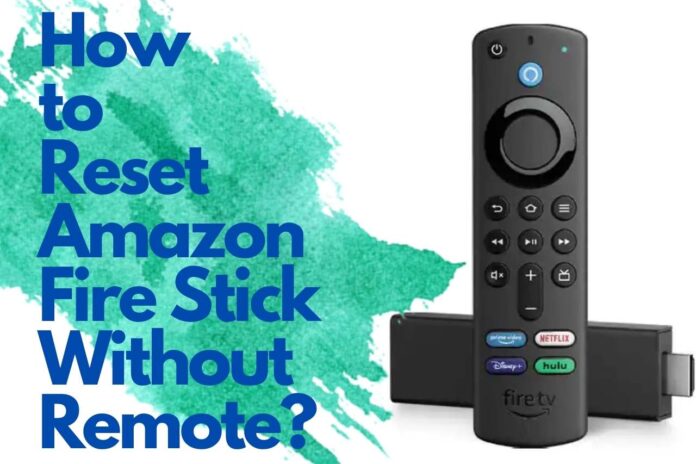 A convenient one-stop shop for accessing the majority of streaming services through a single interface is the Amazon Fire TV Stick. Any new or old gadget, including streaming sticks, is susceptible to several problems. You may have come to our page because the Amazon Fire TV Stick brings you nightmares.   However, you lack the remote control for your Amazon Fire TV. So you might be thinking about how to reset Amazon fire stick without a remote. If possible, consider selling it with just the remote. But how can you reset the Fire TV if you don't have control? There are several solutions to this problem.
Can you Reset Amazon Fire Stick?
If you're wondering whether there is a way to reset a Fire Stick without a remote or not, ask that question before we continue to the next part. Therefore, the answer is yes, and thanks to Amazon, consumers may factory reset their devices without needing a remote.
It's because we have a variety of alternatives for controlling this device, including a remote control that supports HDMI-CEC.
How To Reset Amazon Fire Stick Without A Remote?
So, how to reset Amazon fire stick without a remote? A reset will eliminate all your user and application data, so keep that in mind. Before completing any of these steps, make sure you have your Amazon login information and the logins for your preferred programs close to hand.
Method 1: Amazon fire stick app
Without a doubt, this is the simplest way how to reset Amazon fire stick without a remote. Before trying anything more sophisticated, you should consider trying the Fire TV app first. I'll provide a couple of alternative techniques later if this doesn't work for you.
Your control may get entirely replaced with the Amazon Fire TV app. It also provides a few niceties like an on-screen keypad and recast support in addition to voice search and rudimentary navigation.
We require the navigation controls for our needs. However, if you don't plan to purchase a new Firestick control, you might want to look at the app's other capabilities. The Apple App Store and the Android Play Store provide the original Fire TV app.
Ensure that your Firestick and smartphone get connected to the same Wi-Fi network. Additionally, you'll need to activate Bluetooth on your phone.
Get your phone's Fire TV app open. You'll get prompted to configure a new device the first you launch the Fire TV app. Choose the option marked with a plus symbol, "Set up New Device."
Choose Remote from the menu at the bottom of the screen if you don't see that prompt. The prompt ought to appear as a result. If your app gets linked to a separate Fire TV, you might need to press the X in the top-right corner.
There ought to be a list of various device kinds shown. Make your choice of Fire TV now. It could take a moment for the app to connect to the Firestick. Observe any instructions that appear on the screen.
When the setup finishes, a screen resembling a Firestick remote will appear. Select the gear icon at the top left corner to access the Fire TV settings screen. Go to My Fire TV as in Firestick's settings menu.
Decide on Factory Defaults Reset. To confirm, click Reset. After that, you must be patient for the factory reset procedure to finish. Following a few minutes, you'll need to try logging into the device and begin the setup procedure.
How To Convince Your Parents To Get You A Phone Without A Fuss
Method 2: Hard reset
The quickest way to restart the Firestick is with a hard restart. However, because a hard reboot necessitates unplugging the Firestick from the port, it is not recommended to perform one sometimes.
Take the Firestick from the HDMI port after turning off the television.

Place the Firestick again into the port after a minimum of 30 seconds.

Turn on the television and give it some time to initialize.

You may now watch your preferred TV episodes or movies on Firestick.
Reminder: Periodically performing a hard reset might cause harm to the port and potentially the Firestick.
Method 3: USB mouse
The nicest feature of the Amazon Firestick is that you can use a USB mouse or a keyboard to control it, and it functions nicely with USB devices.
Your TV's UB port is where you should plug the USB mouse in for it to work.
Click Settings after moving the mouse over the home screen.
Search for My Fire TV and hit it. Select Restart by descending the page.
Wait until the Firestick screen returns before continuing. While this operation is ongoing, do not restart or switch off the television.
Buy Replacement Firestick remote
There isn't a real alternative to a physical remote, even though Amazon's virtual remote will come in handy occasionally. There is good news for those with the time and resources to purchase a replacement remote. Since Amazon offers remote controls directly from its warehouse, you will not be concerned about buying a fake item or one incompatible with the Fire Stick.
Final Thought
That's all there is to say today. You can now reset a Fire Stick without a remote by using the instructions above. However, as most people have asked about this, we have covered everything relating to it. If you're still unclear about its operation, click the link above to review the instructions.
The issue is that after resetting, you will need to set up your Firestick once more, and a remote is necessary. Because of this, you ought to get a replacement remote from the Amazon website. You will be unable to set it up or use the device you were used to without it.
You May Also Like: